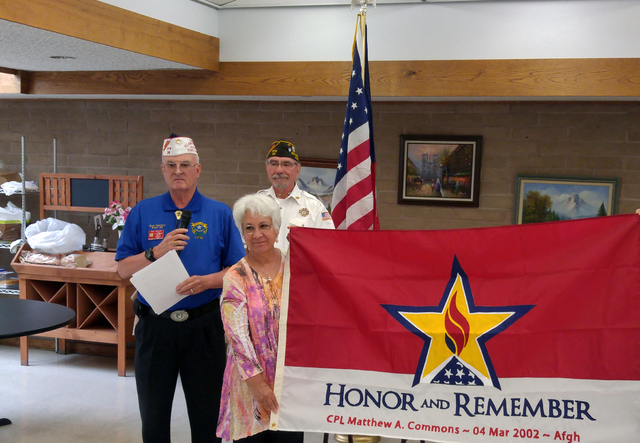 The Veterans of Foreign War, Post 36 chapter, presented Pat Marek with an Honor and Remember flag Saturday in remembrance of her son, Army Cpl. Matthew Commons, after whom the Boulder City post is named.
Marek, who lives in Bailey, Colorado, returned to Boulder City for the first time in five years to receive the flag in person.
"They could have sent it to me in Colorado, but I wanted to be here because Matt wanted to be here," Marek said. "He loved Boulder City and wanted to return here and raise a family here." Commons was killed in action in March 2002 during the battle of Takur Ghar in Afghanistan.
Though she hasn't been able to visit in recent years, Marek says she has made a point to stay in touch with her son's namesake post.
"The Garlows have been so nice to keep me posted with what happens here," Marek said about the former post and state commander, Robert Garlow and his wife, Sue. "They really do a lot a great things, at the veterans' home and for veterans all over the community."
Post Commander Randy Kintner opened the ceremony and spoke about the three recipients of the Matthew Commons Scholarship awards, which were announced Monday, before turning the microphone over to Robert Garlow. "It's a reminder of the blank check every soldier writes to the U.S.," Garlow said. "No one can take for granted the sacrifices that families are asked to make and we are honored to present Pat with this flag as a small thank-you."
In addition to the flag presentation, the post also held its swearing-in ceremony for new officers, which included Marek, who was sworn in as an auxiliary conductor.
Contact reporter Hunter Terry at hterry@bouldercityreview.com or call 702-586-6711. Follow him on Twitter @HunterBCReview