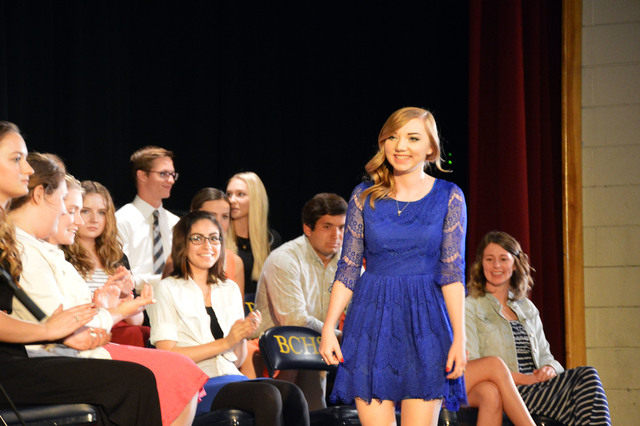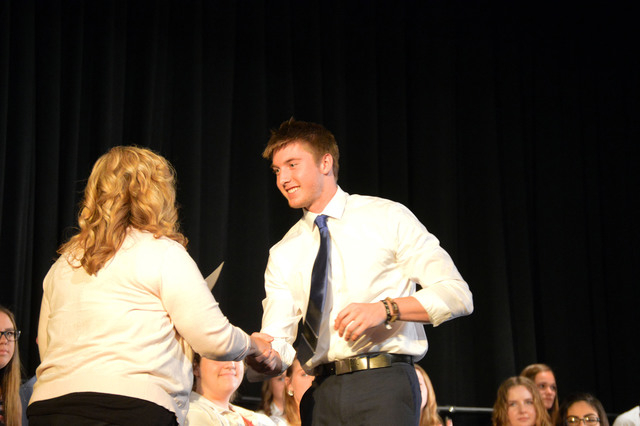 Getting into college is only half the battle: You also need a way to pay for it. Fortunately, some graduating seniors from Boulder City High School got a little financial assistance at the school's scholarship ceremony on May 16.
Scholarships ranging from $500 to $3,000 were awarded to the students by various organizations in the community to help them start their college careers. In all, 35 scholarships were presented.
Throughout the night students smiled and shook hands with the scholarship presenters, who were happy to give some money to students that best represented their values. Daughters of the American Revolution member Carla Mitchell Kraft was proud to give their organization's scholarship to Kaitlyn Blumenthal, whose essay on the importance of the Constitution moved Kraft.
"We are so proud to give this money to Kaitlyn," Kraft said. "Her understanding of the importance of our country's founding document makes her a perfect leader for future generations." Blumenthal also was presented with five additional scholarships.
The ceremony at times felt like a family affair, with many of the presenters knowing scholarship recipients since they were young kids.
Carole Gordon, founder of Oaklane Academy Preschool, gave her alumni scholarship to Kellie Corona and Kevin Vallely, who Gordon has know since they attended her preschool in 2002.
"It never gets old watching these kids grow up," Gordon said. "These kids feel like family to me. I have been doing this so long I am giving kids the same scholarship I gave their parents."
Students had varying ideas about how they would use their money; some said they would use it to buy books, pay rent or lighten the load of tuition costs, but all the students were excited to receive a bit of extra help from the community they call home. Graduating senior and class president Velzani Moncayo received nine scholarships at the ceremony.
"I don't even know how much money I received tonight," Moncayo said. "All I know is I am thankful for all the scholarships. They are validation for all the homework and late nights."
Moncayo also received the Principal's Award, which she shared with Brian Johnson. Principal Amy Wagner selected the two based on their service to the school and community as examples of "what is best about Boulder City High School students."
Moncayo will attend the College of Southern Nevada in the fall where she will be "exploring majors."
Johnson said he was surprised he received any money at all.
"I am really happy I got as many scholarships as I did," Johnson said. "My classmates are all smart, amazing people and I thought I had no chance to compete with them."
Johnson will go on a two-year mission trip to Taiwan/Taipei for his church. Afterwards he will attend Brigham Young University. Johnson is interested in majoring in either premed of business, but he said he really doesn't know what he wants to do.
Contact reporter Max Lancaster at mlancaster@bouldercityreview.com or at 702-586-9401. Follow him on Twitter @MLancasterBCR.
Scholarship Recipients
American Legion Auxiliary Scholarship: Kaitlyn Blumenthal, Jennifer Jack, Ekaterian Shirbroun
Amy Wagner Principal Achievement Scholarship: Emmalee Torgesen
Bethany Smith Memorial Scholarship: Velzani Moncayo
Bill and Elaine K. Smith and Rotary Club of Boulder City Scholarship: Velzani Moncayo
Boulder Blue Scholarship: Mollie Asbury, Kaitlyn Blumenthal, Kelsey Clark, Bryanna Lopez, Velzani Moncayo, Emily Owens
Cactus Rebekah, Lodge No. 40, Scholarship: Breanne Harkins, Emmalee Torgesen
Chamber of Commerce Scholarship: Samuel Gomez, Breanne Harkins, Velzani Moncayo, Ekaterina Shirbroun
Cpl. Matthew Commons Memorial Scholarship: Emmalee Torgesen, Breanne Harkins, Ekaterina Shirbroun
Draney Family Scholarship: Raelyn Burkhart, Tierra Carranza, Rylee Dosch, Velzani Moncayo, Ekaterina Shirbroun, TeaganSmale, Tasia Tagliere
Eileen Conners Beta Sigma Phi Scholarship: Kaitlyn Blumenthal, Kelsey Clark, Ekaterina Shirbroun, Sabrina Snow, JustineWard
Boulder City Elks Most Valuable Students: Brian Johnson, Emmalee Torgesen
Nevada State Elks Most Valuable Students: Brian Johnson, Emmalee Torgesen
Goldie Begley Memorial FIRST Robotics Scholarship: Breanne Harkins, Nicholas Lara
Hospital Auxiliary Scholarship: Kaitlyn Blumenthal, Brian Johnson, Justine Ward
Interact Club Scholarship: Tarah Cox, Jennifer Jack
Jennifer Wilson Memorial Scholarship: Velzani Moncayo
Louise Brothers Sanders Memorial Scholarship: Samuel Gomez, Breanne Harkins
Luanna Mitchell Memorial Daughers of the American Revolution Scholarship: Kaitlyn Blumenthal
Masonic Scholarship: Velzani Moncayo
Michelle Korfman Scholarship: Emily Owens, Justine Ward
Miss Amy and Desi Arnaz Jr. Scholarship: Kylee Hamel
Nicole Anderson-Mangin Memorial Scholarship: Joren Selinger
Oaklane Academy Scholarship: Kellie Corona, Kevin Vallely
PEO Sisterhood Scholarship, Chapter K: Velzani Moncayo
Rotary Club of Boulder City Scholarship: Kaitlyn Blumenthal, Breanne Harkins
Rotary Club of Boulder City Scholarship in Memory of Dib Campbell: Kelsey Clark
Rotary Club of Boulder City Scholarship in Memory of Leslie Ringen: Ekaterina Shirbroun
Seymore Family Scholarship: Brian Johnson
Shane Patton Scholarship: Tarah Cox, Emily Owens, Ekaterina Shirbroun
Soaring Eagle Scholarship: Kaitlyn Blumenthal
Sunrise Rotary Scholarship: Breanne Harkins, Ekaterina Shirbroun, Emmalee Torgesen
Joseph P. and Rosa W. Wagner Scholarship: Ekaterina Shirbroun
United States Naval Academy appointment: Nicholas Lara
Women's Club Scholarship: Velzani Moncayo, Zachary Murphy