Sculpture dedicated to longtime supporters of art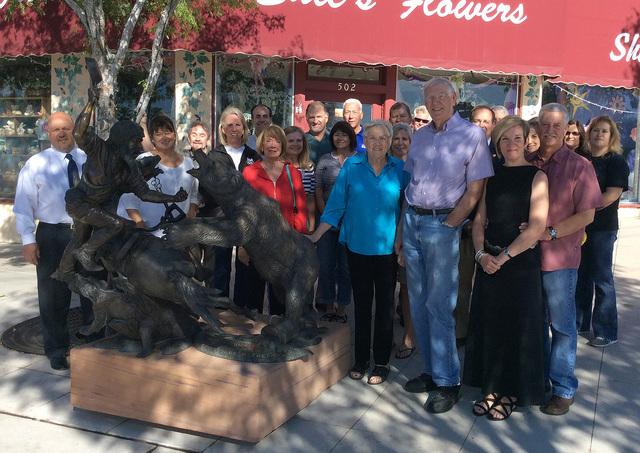 Vern and Darlene Burk, longtime supporters of the Boulder City Public Art Scape project, were honored Wednesday morning when one of the bronzes on display in downtown was moved to its permanent home and dedicated to them.
"If It Isn't One Thing, It's Your Mother" was donated in their honor. The sculpture by Jerry Anderson features a trapper protecting himself and his horse against a bear.
Wendell Whitman, a friend of the arts and husband of Art Scape board member Kathy Whitman, said Vern Burk had told him that statue was his favorite piece and was the best one they had ever displayed. Then, with help from Eric Estes, CEO of Boulder Dam Credit Union, they began asking for donations to purchase the statue and dedicate it to the Burks.
"It was the easiest fundraising we ever did," Wendell Whitman said, adding the statue publicly displays how the Burks' friends feel about them.
Estes credited the Burks for making a difference in the community.
Twenty-four individuals made donations to purchase the statue, which cost $30,000.
Surrounded by friends and family, the Burks thanked everyone for the honor.
"I'm overwhelmed," Darlene Burk said.
"We love Boulder City and this gathering exemplifies why we love Boulder City," Vern Burk said. "This is such an honor."