Bletsch, BC's only female mayor, dies
November 21, 2013 - 6:01 am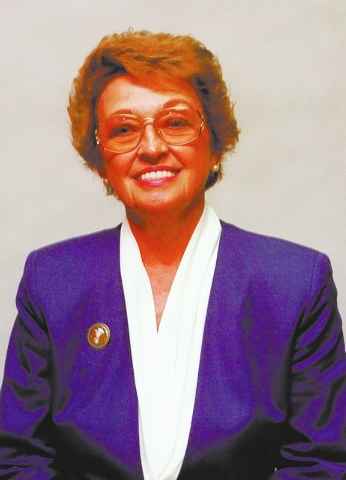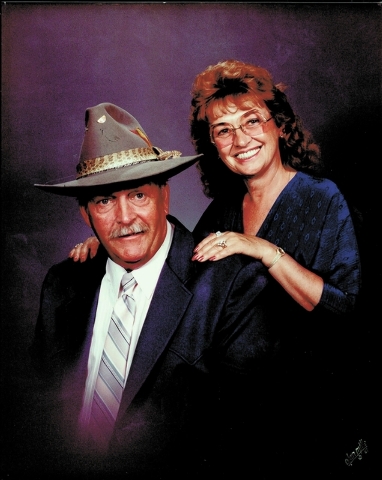 Former Mayor Iris Bletsch died Nov. 10 at the age of 82, but her impact on Boulder City will live on through her many accomplishments.
Bletsch moved to Boulder City from her native Michigan in 1958. Aside from a brief return to Michigan in the 1960s, she lived in Boulder City until her death.
Bletsch served on the City Council from 1989 until 1997. She held the title of mayor for two terms, from 1993 to 1997.
She was Boulder City's only female mayor. At that time the mayor's seat was given to a council member appointed by the other council members.
"I think the most important accomplishment to her was being the first female mayor because she was always the type of person that was pushing for more of an equality in the workplace for women," said her son, Gerry Bletsch, of Boulder City.
The oldest of three children, Iris Bletsch told friend Rose Henderson in a 2010 interview project that her belief in gender equality came from her father.
"My dad raised me like a boy. He and I believed I could do anything a boy could do," she said.
Iris Bletsch held her convictions tightly while on the council.
"Once she made a decision and thought it was right, she would listen to everyone's point of view but was unwavering," Gerry Bletsch said.
Bletsch told Henderson that her reputation as a tough lady once earned her the nickname "Godzilla" from former City Manager George Forbes. However, her toughness was needed as she supported controversial issues, such as bringing public bus service to connect Las Vegas and Boulder City.
Gerry Bletsch said that without local taxi service, his mother saw a need for elderly residents and others without transportation to be able to get to Las Vegas and back.
However, the proposal was met with strong opposition, including a billboard someone erected outside Boulder City with a picture of her driving a bus, and threats to her safety.
"(Some Boulder City residents) had visions of people coming out of Vegas and robbing their house and putting their television on the bus and bringing it back to Vegas," Gerry Bletsch said.
The council approved bus service and now residents have the option of riding the bus to Henderson and Las Vegas.
Iris Bletsch also supported the controversial construction of Veteran's Memorial Drive, which she believed was needed to reduce traffic congestion from morning commuters.
According to Henderson, "Iris understood the need to balance nostalgia with some good common sense and pushed for the road to go in."
Despite her controversial ideas, former Mayor Bob Ferraro, who served on the council with Bletsch, said she was well-respected. In 1995, she was even named Nevada Public Official of the Year.
Additionally, Bletsch was involved in the early discussions of issues that are important to Boulder City today, including the Boulder City bypass, which is set for construction in the next few years. She also pushed for the city's acquisition of Eldorado Valley, which it owns and leases to solar power facilities, producing much-needed revenue.
"If we didn't get it, others would," she told Henderson.
Bletsch ran for Nevada Assembly in 1992, losing a close race to longtime Boulder City teacher Gene Segerblom, Gerry Bletsch said.
Iris Bletsch's contribution to Boulder City extends beyond public service.
In 1968, her family took over the Conoco service station on Nevada Way. Shortly thereafter, the family purchased a tow truck, and the Big John and Sons Inc. towing company was born.
Although her husband, John "Big John" Bletsch, was the face of the business, Iris Bletsch called the shots, according to her son.
"She really made the business decisions on the grand scale," he said.
The Bletsches sold Big John's Towing in 1990, but it remains the city's only towing company. The family still owns the land on which the Foothill Drive business is located.
Iris Bletsch's business-savvy also led her to real estate. In 1980, she and two others opened Desert Sun Realty, which is still in operation.
"The most important thing about Iris, she was a true businessperson through and through," current Desert Sun Realty broker/owner Bret Runion said. "But deep down inside she really cared about Boulder City and that's why she got involved in politics."
Runion said Bletsch was one of "the cast of characters of Boulder City," along with former lawyer/Clark County Commissioner Ralph Denton, who died last year, and Segerblom, who died in January.
"We're losing them one by one and it's sad because they all played a part of making Boulder City what it is today," he said.
In addition to Gerry Bletsch, she is survived by her husband, John Bletsch; her sister, Barabara Ecklund; her brother, John R. Zaiger; six grandchildren; numerous great-grandchildren, nieces, nephews and other family members across the country.
A graveside service will be at 11 a.m. Saturday at Boulder City Cemetery, 555 Adams Blvd. In lieu of flowers, the Bletsch family asks that donations be made to the Boulder City/Hoover Dam Museum, one of Iris Bletsch's favorite organizations.