Shaved ice trailer temporary plan for dirt corner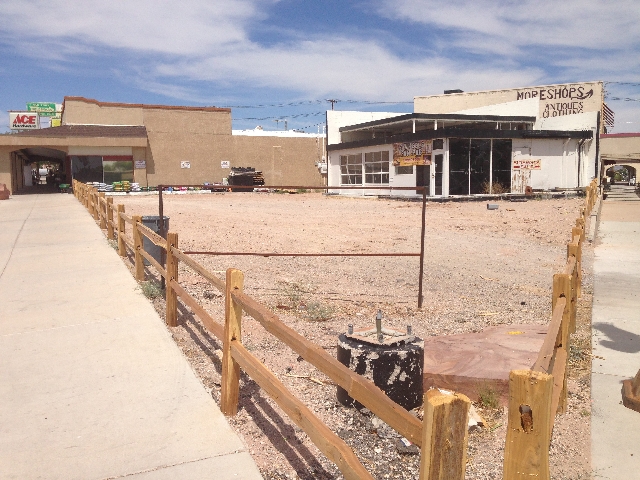 If all goes according to plan, the corner of Nevada Way and Wyoming Street will be a little cooler next month.
The plan is for a Hawaiian shaved ice stand to be erected in the dirt parking lot at 567 Nevada Way.
Nathan West, co-owner of Henderson-based Beach Bums Hawaiian Ice, said his company is bringing a small mobile trailer to the property.
An employee inside the trailer will sell Hawaiian shaved ice, or snow cones.
West said his company is finishing up the city permitting process, and hopes to be open by July 4.
"We want to be open as soon as we can. We just want to finalize all of the permits and make sure our building meshes with the core of downtown," West said.
The property has been owned by Milo's Best Cellars owner Milo Hurst since 2003.
Hurst has had various plans for the property over the years, including an art gallery, and more recently a motorcycle-themed restaurant, but none has reached the development stage.
Hurst was unavailable for comment.
But according to Community Development Director Brok Armantrout, Hurst told the Planning Commission he no longer plans to open the motorcycle shop/eatery, which was to be called 2 Wheels Garage and Grille.
"It's my understanding he wants to do something else … it's changed from a biker bar," Armantrout said.
Armantrout did not have details of Hurst's new plan. More than $400,000 in improvements to the property were planned for 2 Wheels Garage and Grille, Hurst told the Boulder City Review in 2011.
Planned improvements included a waterfall, gazebo, arbor system and a 30-foot tall power-generating wind turbine.
The restaurant was initially estimated to open in spring 2011, but the opening date was pushed to January 2012, because Hurst was involved in a motorcycle accident in Mexico.
However, Hurst told the Boulder City Review in August that the "soft economy" and other projects were affecting his ability to develop the property.
In July 2011, Hurst secured $99,900 from the Redevelopment Agency for the construction of 2 Wheels Garage and Grille. However, the reimbursement agreement has expired.
To receive Redevelopment Agency funding for the property, Hurst will have to re-apply, Armantrout said.
The Planning Commission has expressed concern about weeds and people using the vacant lot for parking, he said, but Hurst addressed both issues in May by removing the weeds and building a wooden fence around the property.
The property is compliant with city code, Armantrout said.