September 26, 2013 - 4:02 am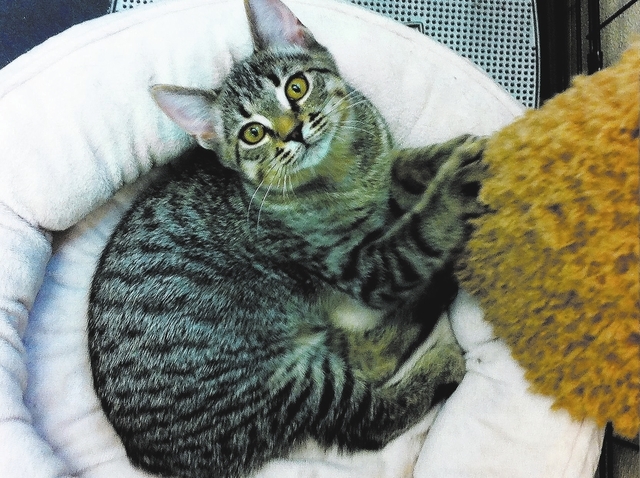 Library events scheduled throughout September
The Boulder City Library is at 701 Adams Blvd. Call 702-293-1281.
September is National Library Card Sign-up Month. Stop in to get your first card or renew your current card.
The library will celebrate "Banned Book Week" through Saturday. Come find out which books have been banned and challenged.
The library will be closed Oct. 3 for staff development.
n Lego challenge returns at 4 p.m. Thursday in the community room. The event is for ages 6 and older. Legos provided.
n Movie of the month "The Avengers," will be shown at 1 p.m. Saturday in the community room. The 143-minute film is rated PG-13.
n Storytime returns Wednesday with preschool (ages 3-5) at 10 a.m., and toddlers (under 36 months) at 10:30 a.m.
Community Club luncheon today at Vinny's Pizza
The kickoff luncheon for the Community Club will be at 12:30 p.m. Sept. 26 at Vinny's Pizza, 1632 Nevada Highway. Cost is $10 and will include cold drinks. The speaker will be Detective Scott Pastore, who heads up the Explorer program for the Boulder City Police Department. Call Beverly Parry after 1 p.m. at 702-293-7623 for reservations or more information.
Senior screening Saturday
The Nevada Goes Fall Free Coalition will screen senior citizens from 11 a.m. – 3 p.m. Saturday at the Nevada State Veterans Home, 100 Veterans Memorial Dr. The screening is to bring awareness to preventive measures to avoid falls and related injuries. Screening includes answering a questionnaire and a fall-risk assessment.
Nevada State Railroad Museum open weekends
For a larger-than-life train ride, bring the family to the Nevada State Railroad Museum, 600 Yucca St. The train leaves the station at 10 a.m., 11:30 a.m., 1 p.m. and 2:30 p.m. each Saturday and Sunday.
It's "all aboard" 15 minutes before departure. Adult fare is $10, children 4-11 are $5, and 3 and younger are free.
Sewing group meets Monday
Hope Church, 850 Avenue B, is starting a sewing group at 6:30 p.m. Mondays. Everyone is invited to bring their machine, sewing notions or any unfinished projects. The group will be led by Corrine Bailey and Kay Bacon. There is no cost. Contact carwentz@gmail.com. for more information.
Red Mountain Choir practices Wednesday
Red Mountain Choir will have weekly rehearsals for its fall show at 7 p.m. Wednesdays at the LA Water &Power Building, 600 Nevada Way. The concert, "Shall We Dance," will take place Nov. 22-23. Weekly rehearsals for the choir's Christmas concert will be 3:45-5 p.m. Wednesdays in the LA Water &Power Building. The concert, "'Tis the Season," will be Dec. 14. All who enjoy singing are invited to participate in this nonauditioned adult choir. Email redmountainmusic@embarqmail.com or call Rose at 702-293-5455 to join.
American Legion breakfast served Thursday mornings
All veterans and their families are invited to the American Legion's varied menu breakfast from 7-9 a.m. Thursdays at the American Legion Hall, 508 California Way, between Boulder Bowl and Grace Church Academy.
Legionnaires and eligible veterans are invited to the American Legion meeting at 7 p.m. the first Tuesday of the month at the hall. Call Cmdr. Wayne Curtis at 702-293-6622 for more information.
Hospital Foundation seeking Art in the Park volunteers
The Boulder City Hospital Foundation is seeking 250 volunteers to work four- or eight-hour shifts at the 51st annual Art in the Park event Oct. 5-6. Volunteers also are needed to work the Art in the Park raffle ticket table at the Boulder Dam Credit Union on Thursdays and Fridays in September.
Volunteers working at the event will receive a free T-shirt and refreshments. Contact volunteer coordinator Kirsten C. Ashley at 702-813-8003 from 10 a.m. to 6 p.m. Monday through Friday or email art@bouldercityhospital.org.
An application and a complete list of volunteer job descriptions are available at www.artinthepark.org.
Day of Dead skulls on sale
The Boulder City Art Guild and Gallery inside the Boulder Dam Hotel, 1305 Arizona St., will host the Day of the Dead porcelain skull sale through Oct. 18. For $12, buy, decorate and donate the skull back for a silent auction fundraiser for the guild to be held at 6 p.m. Nov. 1. Call 702-501-9219 or email the thecornergallerybc@gmail.com for more information.
Hospital gift shop, long-term care seek volunteers
The Boulder City Hospital Auxiliary is seeking volunteers to work in the Goldie Begley Gift Shoppe and in long-term care. Call 702-293-4111 and ask for the gift shop or stop by the gift shop for an application. The application also is available at the hospital website,www.bchcares.org.
Church seeks donations
Grace Community church is accepting donations of furniture, clothing, housewares and hardware for its Country Store. The storeroom is open at 717 Park St. from 8-10 a.m. Mondays. For information, call 702-293-2018.
Knights of Columbus meet first Thursday
The Saint Andrew Council of the Knights of Columbus meets the first Thursday of each month in the Saint Mary classroom at Saint Andrew's Catholic Church, 1399 San Felipe Drive. The social starts at 6:30 p.m. and the meeting starts at 7 p.m. Visiting Knights from other councils are invited.Contact Robert Hartman, grand knight, at 702-218-8713 for more information.
Democratic Club meets second Thursday
The Boulder City Democratic Club's monthly meeting will be at 6:30 p.m. the second Thursday at the library, 701 Adams Blvd. Members, guests and the public are invited. Contact the club at 702-530-6604 or bouldercitydemocraticclub@gmail.com for more information.
AAUW meets third Monday at Boulder Dam Museum
Women of Boulder City are invited to stop in for a monthly meeting of the American Association of University Women at 7 p.m. on the third Monday of the month at the Boulder Dam Museum meeting room, second floor of the Boulder Dam Hotel, 1305 Arizona St.
VFW meets second Saturday
The local chapter of the Veterans of Foreign Wars meets the second Saturday of the month with lunch at 11:30 a.m. and the meeting at noon at the Senior Center, 813 Arizona St. Call Bob Garlow at 702-808-4755 for information.
Lend A Hand training volunteers Oct. 15
Lend A Hand is having a volunteering training class Oct. 15 at 9 a.m at the Lend A Hand office, at 400 Utah Street. Please call 702-294-2363 for information on the class. Lend A Hand helps seniors, disabled and handicapped residents of Boulder City, driving them to appointments all over the Las Vegas Valley and providing help, respite and companionship for them to help them remain in their homes. Volunteers are needed to provide these services to our community.
Homestead to hold support groups, workshops
The Homestead announces a series of free workshops aimed at educating the public on aging, Alzheimer's disease and dementia. The workshops will be led by Mary Shapiro, gerontologist and author. All workshops take place at 10 a.m. on the third Thursday of the month at The Homestead, 1401 Medical Park Drive. The Oct. 17 topic will be "Exploring Options as the Disease Progresses."
The Alzheimer's Support Group meets at 11:30 a.m., followed by the Memory Loss Support Group at 1 p.m.
Republican women meet third Thursday
Boulder City Republican Women will meet 11:30 a.m. Oct. 17 at Railroad Pass Conference Room. Cresent Hardy, Nevada District 19 assemblyman and minority floor leader, will speak on actions taken at the recent legislative sessions. Cost of the luncheon meeting is $20, and all interested persons are invited.