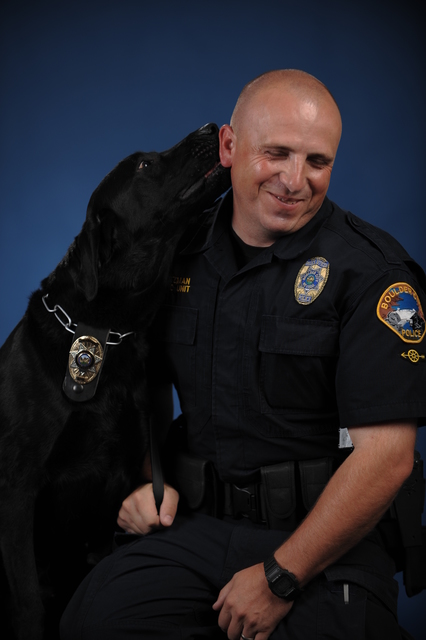 City's K-9 officer euthanized after condition worsens, seizures
City Hall officials reported that the Boulder City Police Department's lone K-9 officer, Charlie, had to be euthanized.
According to Sue Manteris, public information officer for the city, Charlie's veterinarian recommended the procedure after an MRI showed the police dog had cystlike features in his brain that were secondary to seizures or strokes. He was euthanized around 10:15 a.m. Saturday.
"The city is saddened by the loss of Charlie … our community dog, who helped keep Boulder City and Southern Nevada safe," she said.
According to Manteris, Charlie was struggling and it had become hard for him to function.
"At times, he could no longer control his back legs," she said.
Additionally, after coming out of his seizures, Charlie would appear confused, disoriented, scared and sometimes act in an aggressive manner.
Charlie's name will be added to the new K-9 memorial in Veterans' Memorial Park.
Since the loss of Charlie was sudden, Boulder City Police Department is evaluating its K-9 program to help determine when to get another police dog, she said.
Infant found dead at Lake Mead
An infant died on the morning of Nov. 26 at Lake Mead National Recreation Area.
The child was identified Monday as 4-month-old Jaxson Jesselee Lial-Garza, according to a GoFundMe account created by the child's mother, Miranda Lial, to help pay for the funeral.
The GoFundMe account states that Jaxson was born premature and spent the first two weeks of his life in a neonatal intensive care unit.
The cause of death is still not being released, according to the Clark County coroner's office.
The National Park Service received a call that the infant was found not breathing and unresponsive near the 33 Hole Overlook.
The child was found with his mother by a boater who had heard the infant's mother screaming for help.
The boater administrated CPR until the authorities arrived, but the child was pronounced dead at 9:08 a.m.
The death is being investigated by the National Park Service Investigative Service Branch.