All-day block party set for May 18 in front of Dillinger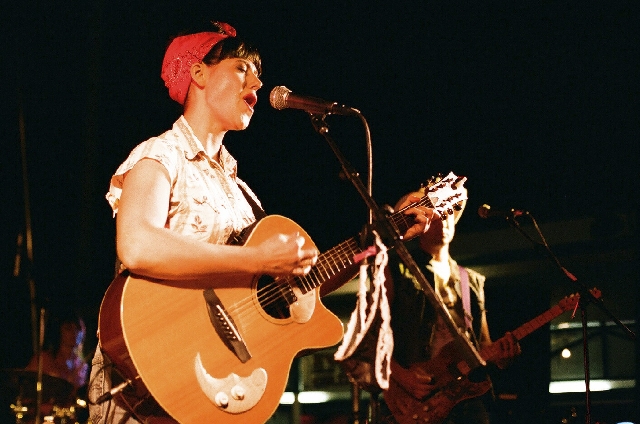 The Dillinger Food & Drinkery downtown has announced May 18 as the date for its next block party.
The follow-up to September's inaugural Dillinger block party is still in the planning stages, but it will be much larger than the first one, Dillinger owner Grant Turner said.
"It will be similar to last year, just on a much bigger scale," Turner said.
The all-day block party will take place on Arizona Street in front of The Dillinger, beginning at noon.
However, the section of Arizona Street that will be closed will be larger than last year, stretching from the former Central Market location to Hotel Plaza.
With the additional space, The Dillinger will be able to provide a location for vendors.
"If anybody has anything they want to do, bring it on," Turner said.
The 10-foot-by-10-foot spaces can be rented directly from The Dillinger for $100 by contacting Kristi DeVita at 702-858-8229, or emailing at kristidevita@gmail.com.
There will also be bands playing on a stage erected in the street, including Boulder City bands Same Sex Mary and Junkyard Dogs, as well as bands from Texas and Colorado.
Austin, Texas-based rock/blues band Leopold and His Fiction will be returning to Boulder City for the first time since its multiple appearances at Matteo's Underground Lounge, which closed in 2008.
The event is seeking corporate sponsorship that could potentially allow for a larger headlining act, Turner said.
Turner also wishes to include an unforgettable nonmusical spectacle, and has even gone as far as researching the possibility of hiring a human cannonball. Apparently it's a difficult thing to do.
However, one thing that's certain is there will not be a problem purchasing beer like there was last year, when the block party's large turnout overwhelmed The Dillinger's bar, Turner said.
There will be two beer trucks and three service bars located outside, in addition to the restaurant bar.
There will even be a beer-drinking contest sponsored by Pabst Blue Ribbon, Turner said.
"There's going to be a lot of beer," Turner said.
Turner said the block party may end up being a biannual event, but it will always be when the time feels right.
"It's whenever the weather's nice and a party feels right," he said. "Sometimes you get that tingle."
Turner is also working with city officials and police to have a better understanding of the city's noise laws.
Last year's concerts ended an hour earlier than planned when police told the organizers they had received too many noise complaints.