Sixth-inning double by Pacifico leads Eagles baseball team to victory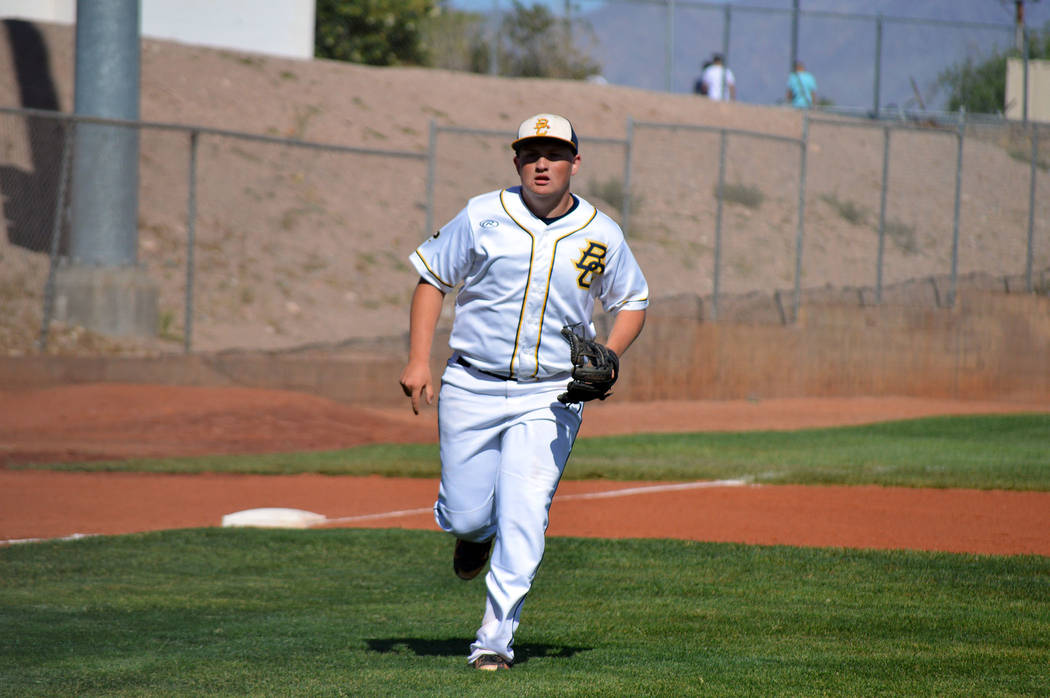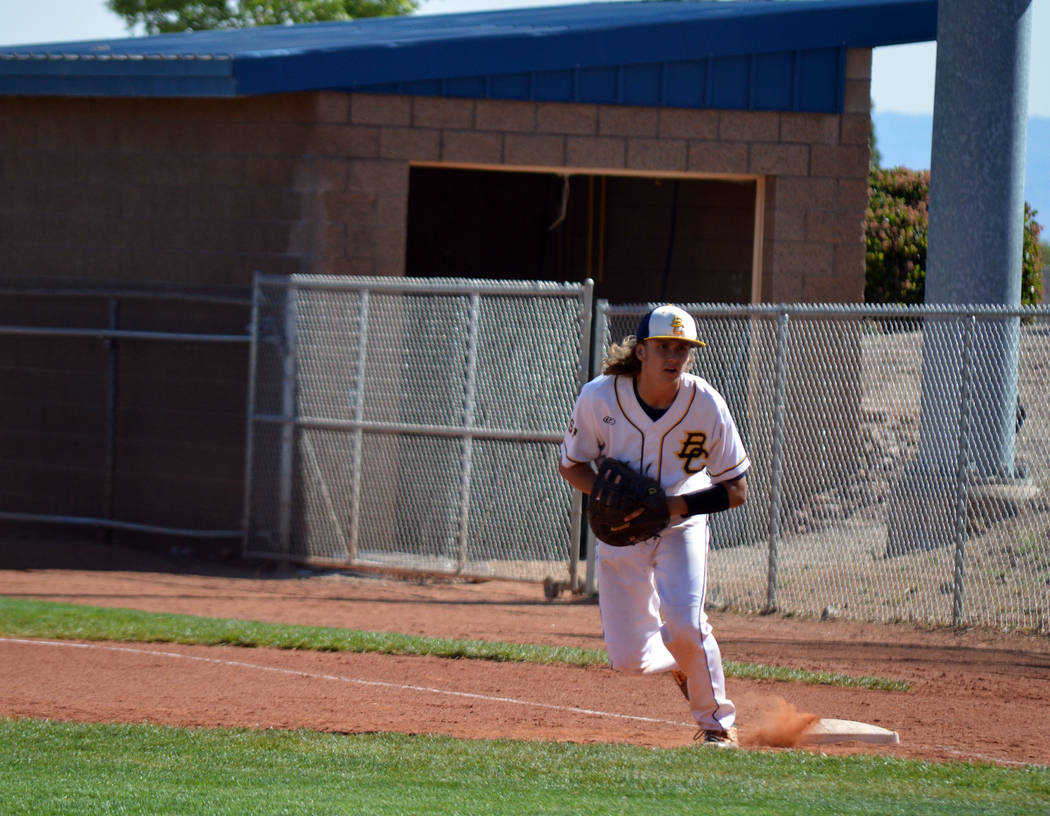 Tied 4-4 with Moapa Valley heading into the bottom of the sixth inning, junior Anthony Pacifico came up clutch for Boulder City High School's Eagles, hitting a double to spark a 7-5 victory.
Already defeated twice by the division-leading Pirates, Tuesday's contest was a must win for the Eagles.
"Beating Moapa was very important because it will show the other teams we are capable of going a long way through playoffs," senior Jake Hubel said. "Handing them their first loss was very important. We were ready to beat them before we showed up to the field. My mindset since the last time we played them was that we were going to beat them."
Pacifico batted a perfect 4-for-4 on the day, knocking in a pair of runs.
"Anthony has been coming along strong and we needed it today," head coach Bobby Reese said. "Coincidentally, he got contacts last week and what do you know, if you can see the ball you can hit better."
Hubel went 1-for-4 at the plate with a fourth-inning RBI, while senior Noah Higgins finished 1-for-4 with an RBI double in the fifth inning.
Pitching beautifully on the mound, Hubel, the team's ace, came through in the clutch once again, throwing seven innings with nine strikeouts, while allowing two earned runs on 10 hits.
"I love having the pressure of a big game put on me," Hubel said. "I don't let a lot of things get to my head, so it helps me stay focused on the next pitch. I feel that I can do my job best when I know that people rely on me to throw strikes. I also love the feeling of shutting down a team that brings good competition to the field."
Beating multiple teams with good competition as of late, Tuesday's win barely tops the team's April 19 heroics against Virgin Valley in a 5-4 shootout.
Tied 4-4 heading into the top of the seventh inning Hubel scored the winning run on a Virgin Valley error after being hit with a pitch to start the scoring effort.
Managing only one hit as a team, the Eagles took advantage of three Virgin Valley errors to score four runs in the fourth inning.
Hubel again claimed the victory against the Bulldogs, throwing four relief innings, allowing two runs on three hits with a pair of strikeouts.
Despite losing Friday's nonleague contest to 4A opponent Bonanza 16-6, the Eagles are hovering just under .500 on the season with a 12-13 record. Moving up to second place in the 3A Sunrise standings, the Eagles have shown they're a dangerous team heading into the postseason.
Heading into the final stretch of the regular season, the Eagles will travel to Chaparral today, followed by a home game against 4A opponent Legacy. They'll wrap up league play Monday with a road game at Del Sol, followed by a home game Wednesday against Virgin Valley.
Contact Robert Vendettoli at BCRsports@gmail.com.
Upcoming games
Today, vs. Chaparral, 3:30 p.m. away varsity, home junior varsity
Friday, vs. Legacy, 3:30 p.m. home varsity, away junior varsity
Monday, vs. Del Sol, 3:30 p.m. away varsity, home junior varsity
Tuesday, vs. Laughlin, 3:30 p.m. away junior varsity
Wednesday, vs. Virgin Valley, 3:30 p.m. home varsity, away junior varsity