Rare bee found only in Clark County may get 'endangered' status
October 31, 2018 - 3:10 pm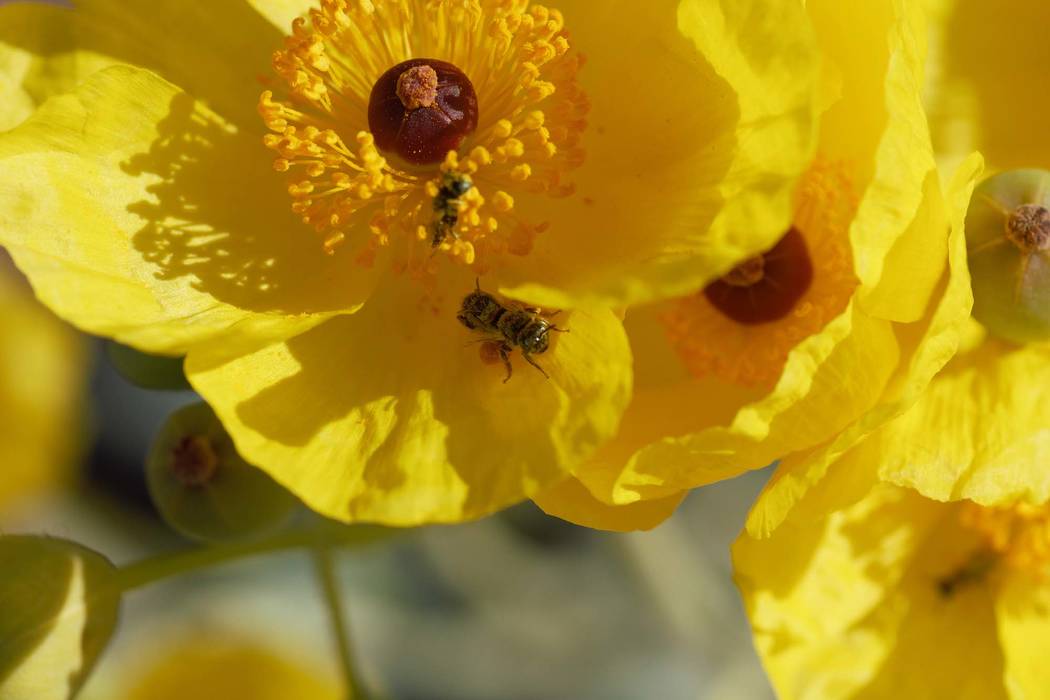 A national environmental group is demanding a swarm of protections for a native desert bee now found only in Clark County.
The Center for Biological Diversity filed a petition in October asking the U.S. Fish and Wildlife Service to add the Mojave poppy bee to the endangered species list.
The Tucson, Arizona-based group says the quarter-inch-long, yellow-and-black bee has disappeared from about 80 percent of its known range since scientists first described the insect 25 years ago.
It was once found at 34 locations in four Western states. It is only seen today at seven sites within Lake Mead National Recreation Area and on neighboring public land in Clark County, where its fate is tied to the survival of the rare and protected Las Vegas bear-poppy.
Before it disappeared from Utah, the bee was also known to pollinate the federally endangered dwarf bear-poppy, which is found only around St. George.
Tara Cornelisse, an entomologist and senior scientist for the Center for Biological Diversity, said the bees and plants are under ongoing threat from livestock grazing, off-road vehicle use, gypsum mining and other development in their shared habitat.
The bees depend on the poppies and vice versa, she said.
"We find this cycle where one of them declines and the other declines," Cornelisse said. "If we don't act quickly, we're going to lose this beautiful little native bee as we watch two of the Mojave's irreplaceable desert flowers continue to decline."
It's unclear what a federal listing for the bee might mean for public land use in Clark County. The Las Vegas bear-poppy is already listed as an endangered species at the state level, but Cornelisse said protections for the insect could lead to increased limits on development in areas where the plant is found.
Clark County Commissioner Larry Brown said county officials are taking a wait-and-see approach to the proposed listing.
Though dealing with endangered species issues can be "frustrating," Brown said, the county has a good working relationship with federal agencies and the environmental community.
"There has to be a balance," he said. "Where do we draw the line on the use of taxpayers' money and the true protection of the environment?"
Cornelisse said the rare native bees are easy enough to spot if you know what to look for. They are smaller than common honeybees, and the males tend to stake out individual flowers and aggressively defend them from other males. If you see two bees covered in pollen wrestling around in a Las Vegas bear-poppy blossom, you're probably looking at Mojave poppy bees.
"It's really easy to see why they're such good pollinators," she said.
One bee listed as endangered
By law, the Fish and Wildlife Service has 90 days to review the center's petition and decide if enough evidence exists for a full status review. That review, which must be finished within a year, would determine whether the species should be listed.
According to its website, the Center for Biological Diversity has filed hundreds of petitions to expand the nation's list of endangered species and won federal listing for more than 350 rare plants and animals. The group has also sued the Fish and Wildlife Service numerous times for failing to review its petitions in timely manner.
The center has drawn criticism for its tactics, while others blame the Endangered Species Act itself.
Though recent polls show strong public support for the landmark law, critics note that just 1 percent of the roughly 2,000 species protected under the act have seen their conditions improve enough to be delisted, despite the tens of millions of dollars spent on recovery efforts.
Supporters of the act cite high-profile success stories such as the bald eagle, the gray wolf and the grizzly bear. They also argue that protecting individual species can lead to the preservation of entire ecosystems — and the recreation economies that depend on them.
Currently the Upper Midwest's rusty patched bumblebee is the only bee in the continental United States protected as an endangered species.
Cornelisse and company said the disappearance of the Mojave poppy bee is part of a wider decline across many of the 4,000-plus species of wild, native bees in the U.S.
The group blames the loss of wild pollinators on disease, habitat loss, pesticide use, climate change and the spread of invasive species.
Contact Henry Brean at hbrean@reviewjournal.com or 702-383-0350. Follow @RefriedBrean on Twitter.
Protected plants and animals
Nevada is home to at least 40 species protected under the Endangered Species Act, including 23 found nowhere else. The Silver State's list of threatened and endangered species includes:
— Ash Meadows milkvetch plant.
— Devils Hole pupfish.
— Moapa dace fish.
— Mojave desert tortoise.
— Mount Charleston blue butterfly.
— Pahrump poolfish.
— Razorback sucker fish.
— Southwestern willow flycatcher bird.
— Ute ladies tresses orchid.
— Western yellow-billed cuckoo.