Music helps heal souls, raise money for victims
October 18, 2017 - 2:57 pm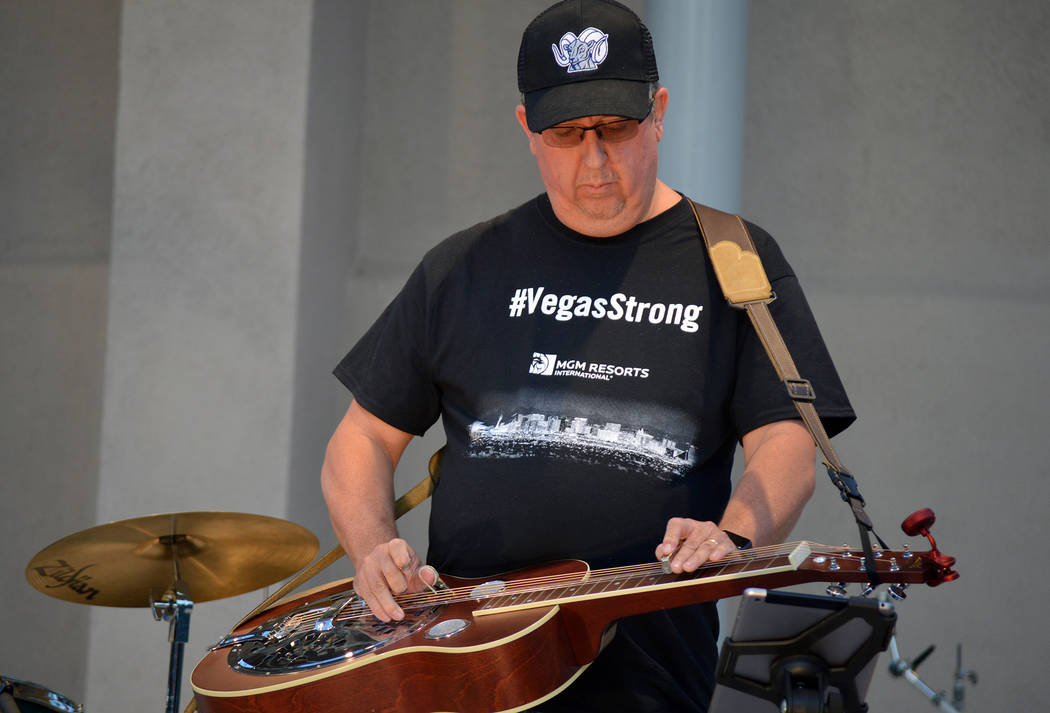 The Oct. 1 shooting in Las Vegas that killed 58 people and left hundreds injured also left many wondering what to do in the aftermath, including two Boulder City residents.
James Adams and Tsvetelina Stefanova, founding members of local band Same Sex Mary, decided to use their craft to help raise money for the victims and bring the community together, so they organized a benefit concert.
"Performing is what we do," Adams said. "It is what we have to give. Tsvet and I are not wealthy in terms of finances, but we have become rich in the relations and networks that we have built over the years. This was our way of pooling what resources we had to affect positive change in our community. We'd do it again in a heartbeat."
Before the shooting, both were already organizing an Oct. 13 benefit event through Bad Moon Booking.
"I think our immediate response in the aftermath of the terror was to hold a benefit show," he said. "Since we already had a show on the books, it was only natural to shift the focus to help in any way we could."
"The 'Reading Bad Moon' event was always intended to be a community event, but the needs of the community changed," Stefanova said. "Shifting the focus was the least we could do to help. We knew Boulder City wanted to help, and this was a great way to rally everyone together."
And rally the community did, raising $4,700 at the concert, as well as other donations through the Boulder Dam Credit Union and Boulder City Sunrise Rotary Club and collected through the distribution of #VegasStrong decals by a local resident.
The money will be matched by Zappos' Crowdrise Campaign, making the total donation from these efforts $9,400. All the money will be given to the Direct Impact Fund, an independent nonprofit organization focused on providing immediate and direct assistance to those affected by natural and man-made disasters.
The concert featured four bands — The Unwieldies, Bad Girls' Smoking Lounge, Indigo Kidd and Same Sex Mary — as well as other activities for kids and attendees. Admission was a suggested donation of $10, but no one was turned away. It was also a chance for the community to spend time together and heal.
"Live music. Support local music and a benefit," said resident Jen Griffith of why she came to the concert. "It seems like a great community event."
Fellow resident Evelyn Dodd said that she came to the concert with some friends and she planned to donate to the victims that evening.
"We are so happy to utilize this pavilion," she added about the location. "We don't use it enough."
Maria Juan said that she came to the concert because it brought "more life around the library."
"We were already that Saturday to play The Dillinger, but after the recent tragedy it was a chance to bring some healing and raise some money," said Robert Bell of The Unwieldies, who opened the show. "Boulder City is a wonderful little community, and the weather was beautiful."
In addition to the community members and musicians who participated, Stefanova and Adams asked two City Council members to be there and say a few words.
"I think it's great seeing the community come together for things like this," said Councilman Kiernan McManus. "I know that Boulder City wasn't directly impacted. It's also clear that our community feels a part of it. It's great to raise money and help."
Fellow Councilman Warren Harhay also attended.
"What's come to me is two weeks ago tonight, people like us were in an outdoor venue, listening to music, and now today our flag is flying at half mast in memoriam of what happened," he said. "There is sorrow in our hearts … There is no way to make sense of the senseless. Since the dawn of time man has come together and celebrated their humanity and art … so tonight we come together to do the same."
Neither Stefanova nor Adams was at the Route 91 Harvest music festival, but as members of the Las Vegas entertainment scene, they felt its impact.
"It was a roller coaster of emotions," said Stefanova of the shooting. "Playing music and planning shows is our life. It's how we strive to bring people together. To think of the horror the people there felt is heartbreaking. The actions of the first responders and ordinary citizens risking their lives to help others in need exemplifies the best in humanity and is something that I hope will forever continue to inspire me in everything I do, big or small."
"James and I played two other benefits in Vegas the weekend after the shooting," she added. "I didn't anticipate how difficult it would be to be up on stage until the very first benefit and I thought, 'What did I get myself into committing to play two other shows?' But I was there sharing the stage with many great friends that overcame their own sacrifices to be up on that stage, and all I wanted to do was support them in every way I could."
"Some people may not see concerts or performances as integral to communities, but for us they are one and the same," Adams said. "Many of our friends run stage production or work services at these types of events. While we were fortunate not to have lost anyone directly in this attack, the wounds were felt deep. These weren't just attacks on tourists or friends. These were attacks on what has become a second family to us."
Contact reporter Celia Shortt Goodyear at cgoodyear@bouldercityreview.com or at 702-586-9401. Follow her on Twitter @csgoodyear.