November 16, 2023 - 8:29 pm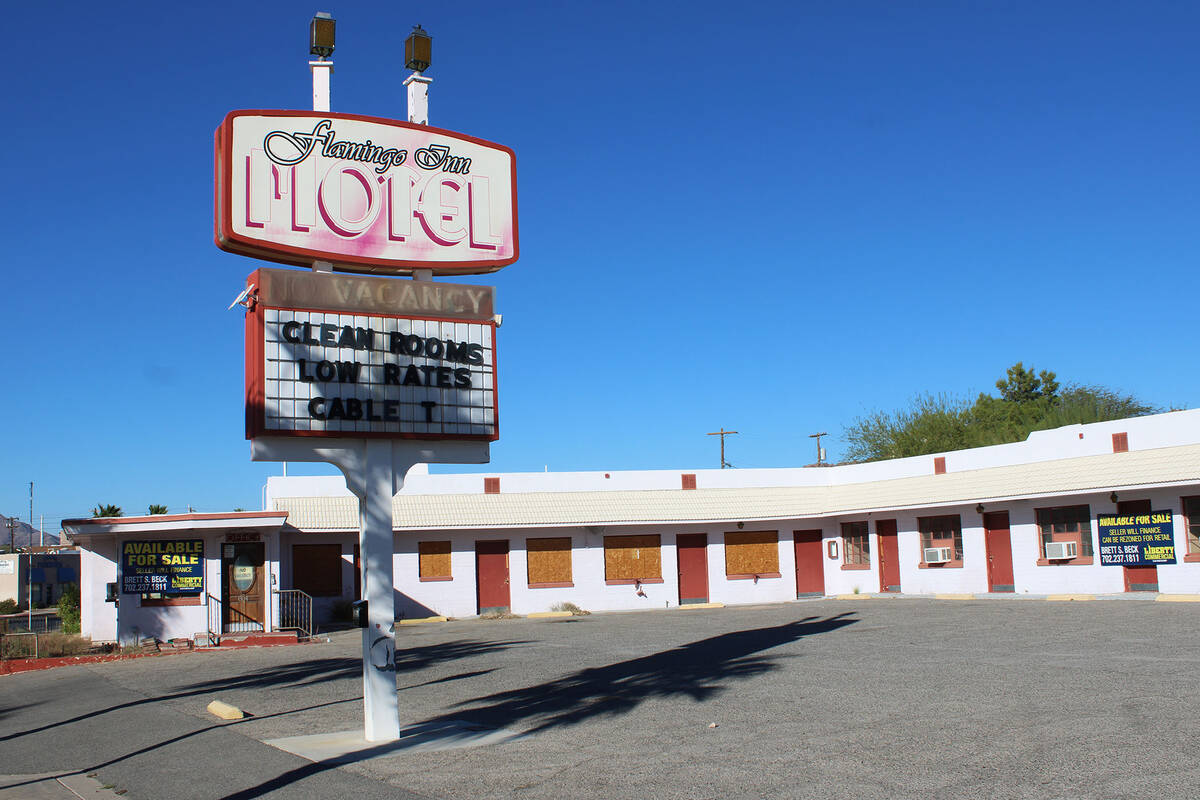 Boulder City residents hoping to see a long-abandoned property on Nevada Way brought back to life were dealt a blow last week when a contract for the sale of the Flamingo Inn Motel fell through just 24 hours before the sale was due to close.
Originally opened in 1950 as Moore's Motel, the original owner reportedly died in the early 2000s and left the property to a son. He was not able to keep it as a going concern and it fell into increasing disrepair and was abandoned since at least 2012.
In 2021 it was subject to a probate auction and was purchased by Daren and Donna Saunders, who had also developed other Nevada Way properties including the building that houses the Boulder Dam Brewing Company. Interviewed about plans for rehabilitation in April of 2023, the couple said that they intended to convert the old motel into a series of small retail shops aimed at artists and craftspeople. At the time, Donna Saunders explained the concept as, "like Art in the Park, but year-round."
The couple had also purchased the Little City Grille building directly across the street, which had closed after it was featured on a local TV station's segment called Dirty Dining highlighting repeated health code violations in 2017.
In early October, For Sale signs suddenly appeared on the Flamingo and the Little City Grille as well as the two properties owned by the Saunders further up Nevada Way.
At that time, Donna Saunders explained the situation in an email. "Two years ago, when we set out to develop our new construction projects, we didn't properly anticipate the length of time it would take to pull everything together. We now have everything approved by the city and are ready to roll but have unfortunately been faced with family challenges from our growing list of grandchildren and the need to help care for our aging moms living on both sides of the pond. My 88-year-old mother is especially challenged and needs our focused attention. My husband and I have decided it is time to sell all of our Boulder City office properties and development projects and free ourselves to focus on our families and officially call ourselves 'retired'."
The sign on the Little City Grille came down quickly and the property will reportedly become a Pink Box Doughnuts location.
Then, in early November, a local real estate agent put up a social media post saying the Flamingo property had sold.
The potential buyers, Martin and Delilah Mueller of Las Vegas, owners of Mueller Custom Cabinetry, have extensive experience working on interiors for a number of Las Vegas casinos and high-end restaurants.
"We saw it only about 10 days ago," Martin Mueller said in an interview. Delilah added that the couple were on the way to Jack's Place on Nevada Way, just up the street from the long-shuttered Flamingo Inn, to meet some friends and noticed the Flamingo Inn was for sale. "By the time we were heading home that night we had a tour set up to check it out."
When asked why they wanted to own a motel in a small town, Martin said, "We live in Las Vegas and we get out to Boulder City a lot. And we're builders. We drove by and the sign was on it and we said, 'Let's call on it.' We'd love to bring it back to life."
But it was not to be.
The Muellers met with Mayor Joe Hardy and city staff on Nov. 15 and described the meeting as positive and supportive of their plan to keep the property as a motel. However, by the following day, the couple had had a change of heart.
"There was nothing that can't be worked around," said Delilah Mueller in an email. "But for us, personally, there were enough unknowns to convince us we could end up in costly renovation that would outweigh the benefit of the investment. This would be a great project for anyone familiar with renovating very old buildings but our specialty is new construction. We are really excited to see who takes this on, hoping the next buyer will roll with the boutique hotel idea and preserve its history."