City gaining better control of airport hangars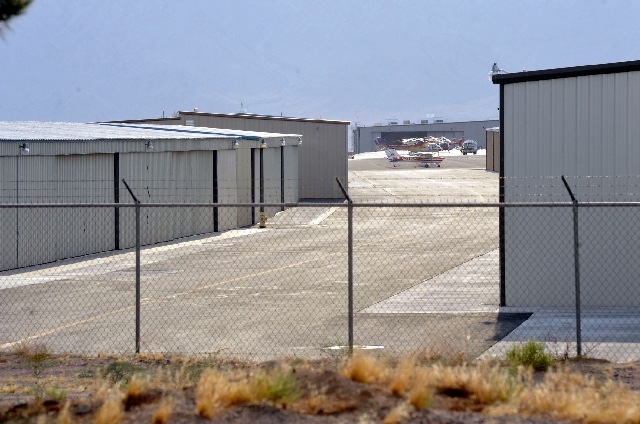 The city's efforts to better manage Boulder City Airport appear to be working.
Unpermitted mechanics, hangars with nonaeronautical storage and unaccounted-for airport access badges are becoming less of a problem, airport Manager Kerry Ahearn said.
Following the city's crackdown on unlicensed commercial mechanics, which included threats of legal action, Ahearn said she has not caught anyone performing unlicensed work.
"They don't seem to be operating as prevalent as they did before," she said.
The city's permitting process for independent operators includes paying a $500 annual fee, and the requirement of a $1 million commercial liability insurance policy, also naming the city as insured.
The requirements for independent operators have been in place for years, but the city did not attempt enforcement until last year.
There are two independent operators with proper permits at the airport, she said.
A problem with nonaeronautical storage in hangars, which is not allowed by the Federal Aviation Administration, is also improving, Ahearn said.
Herbst Investors LLC, owner of six hangars where boats and buses were stored, recently sold the hangars to the airport's fixed-base operator, BFE, which will use them for aeronautical purposes, Ahearn said.
"With them moving, that's a big step forward," she said.
This year the city made sure every hangar had an airplane registered to it in the city's database, Ahearn said.
And in October or November the city will conduct a hangar inspection to monitor storage, as well as fire and building code compliance, Ahearn said.
"It's taking it step by step," she said. "Step 1 is making sure they have an aircraft."
The city received backlash from the airport community last year over its initial attempts to regulate nonaeronautical storage in hangars, which the city said could jeopardize the airport's ability to receive FAA grants.
The Boulder City Airport Association claimed many airports in the nation allow nonaeronautical storage, such as boats and recreational vehicles.
Anthony Garcia, the FAA's regional airport compliance manager, last week inspected the airport and told the City Council at the June 25 meeting that nonaeronautical storage is not allowed.
"As airports have evolved, as hangars have gotten bigger, people want to put more stuff in them. And much to the disappointment of some airport users and pilots and hangar owners, it's been our policy to say hangars are for aviation and aircraft storage and they're not the suitable place to bring all your toys," Garcia said.
Garcia, who did not inspect individual hangars during his visit, told the council that the FAA expects the city to control compliance issues at the airport.
"We would expect you to, on your own, control what happens at the airport so you prevent the egregious problems from developing, and if you discover them, you get rid of them," he said.
Ahearn said the city also began an audit of airport access badges by sending out letters of inquiry in June to airport users.
Ahearn said the audit is needed because the badges were initially issued in 2007 with an expiration date of 2027, and some have changed hands.
"They're coming in. Every day we get more and more," she said. "It's for the safety and security of the tenants on the airport who have a lot of investments on the airport."
Also, a new sublease approval form implemented last year is helping the city know who is using the hangars, Ahearn said.
And the city and airport community are also working on updating the airport's minimum standards and plan to update the airport rules and regulations, Ahearn said.