Common cause: Relay raises funds, shows strength of community in fight against cancer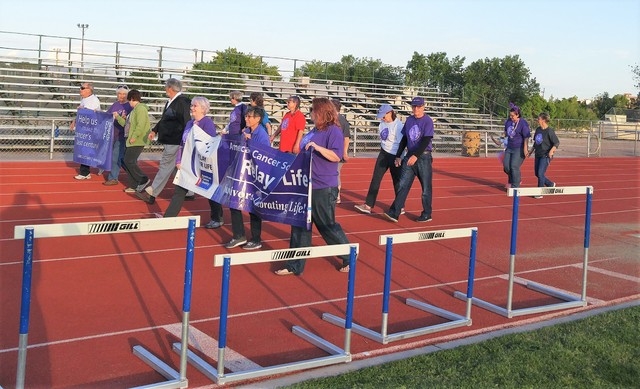 The community came together Friday night to raise money to fight cancer with teams of volunteers walking laps around the track at Boulder City High School from before dusk until dawn.
Shortly after 6 p.m. the event began with the presentation of colors by the Boulder City chapter of the Veterans of Foreign Wars and an invocation by the Rev. Sandy L. Johnson of Boulder City United Methodist Church.
"People show up to walk their laps all throughout the night, some even camp out and stay," said Johnson, who was also in attendance as part the church's team. "It's really amazing to see the community come together to support such an important cause."
She added that, in a small community such as Boulder City, many people see the face of cancer in a friend or someone they love, making it real and unavoidable.
Although the final numbers have not yet been confirmed, as of Tuesday evening the American Cancer Society reported that the 10 teams, made up of 69 participants, had raised nearly $19,000. Throughout the night teams rotated members, making sure there was always someone walking the track, keeping the relay going, and various groups brought food to make sure participants had fuel at the ready, in the form of tacos, baked goods and slow-cooked barbecue.
There were even themed laps to keep things interesting, including a kayak race lap, where one member sat in a kayak on wheels while the rest of the team pushed it around the track, and a zombie lap, where participants emulated the ever-popular undead cannibals.
Members from all over the city donated time, money and work in support of the relay, and to kick off the event, one man gave something very unique. Larry Archuleta walked onto the track field, not long after 6 with long black hair that hit below his shoulders, and by 7 p.m. his hair was down to a couple of inches, cut off at the scene by Sherrill Graff and her team from Creative Hair &Nails.
The 22-inch-long hair was three years in the making and will provide wigs for three children in need.
This was third time donating his hair, according to Archuleta, and this time he waited to do so until he found a program that would guarantee the wigs be donated free of charge.
For more information on the American Cancer Society and the Relay for Life, visit: www.cancer.org or http://bit.ly/1VeMs21.
Contact reporter Hunter Terry at hterry@ bouldercityreview.com or call 702-586-6711. Follow him on Twitter @HunterBCReview.